ABOUT US
Our Mission
Thus we named our company "EXeIdea" to commit ourselves to ideas to be EXecuted in EXcellence.
Our Services
We provide implementation-oriented consulting services in the following fields;
Infrastructure Planning
We provide complete scope of planning work at pre-investment phase with special competence in
the following fields:
-Urban and Regional Planning
-Transport Planning
-Environmental Assessment
-Economic Evaluation
-Financial Planning
-Tariff Structuring
-Risk Analysis
-Institutional Planning
Policy and Institutional Development:
We provide full-stream services in planning and implementation for institutional development
with particular emphasis on
-Sector Strategy and Policy Development
- Institutional Reform
-Governance Improvements
-Community Development
-Community Involvement/Social Awareness
-Public Private Partnership Development
-Human Resource Development
Project Management
We provide project management and promotion services on behalf of our clients. Services include
correspondence and policy dialogue etc.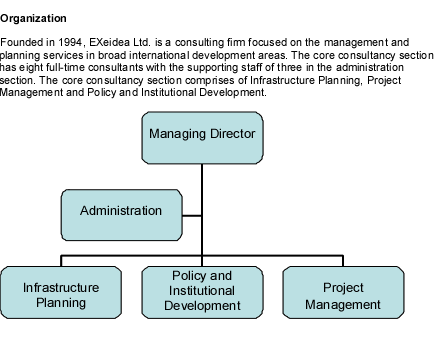 STAFF RESOURCES
Three principle consultants lead and coordinate the three sections. Mr. Shinji Nambo manages the
Infrastructure Planning Section. Mr. Masayuki Ishida manages the Policy and Institutional
Development Section. Mr. Masaaki Nagata heads the Project Management Section. Mr. Hiroshi
Nishimaki manages the entire firm as well as participating in various projects directly.
Ms. Hisako Kodama is the most prominent expert in social development under Institutional
Development. Ms. Yumiko Kashiba is an expert on public health as well as social development.
Ms. Taeko Sawaike is a human resource development expert as well as project management.
Copyright (c) 2009 EXEIDEA.INC